Freelancing type: digital marketing, web development, social media
Pros: diverse category, free registration, online courses
Cons: high commission charge, long payment process
Fiverr is a platform that connects freelancers with business owners looking for services in various digital projects, including website design, content writing, and voice-overs.
This freelance website provides a streamlined method for both freelancers and business owners to interact with one another. Note that on the website, freelancers are called sellers, their services – gigs, and business owners – buyers.
Instead of sending out bids, sellers can sign up for free, list their gigs, and set their prices. Meanwhile, buyers can simply browse through different categories to purchase.
Whenever a buyer purchases a gig, the system automatically charges their account and puts the money on hold. The system will then take a commission fee and send freelancers 80% of the offered price.
Depending on each freelancer's seller level, it can take up to 14 days to withdraw their earnings. There are multiple options to withdraw the payments, such as debit card, PayPal, and wire transfer.
Freelancing type: brand marketing, programming, website design
Pros: payment protection, credible clients, budget-based projects
Cons: lengthy selection process, high service fee
workother is a freelancing website that connects clients and freelancers from across the globe. 
The platform provides a wide range of categories, from web design and software development to customer service and accounting.
Clients and freelancers have multiple ways to connect – clients can choose to post a job and hire talent or buy a predefined service from the project catalog. Similarly, freelancers can access the job board and offer a service to sell.
To get started as a freelancer with workother, begin by creating a profile. Ensure it includes details about yourself, your expertise, and your work experience. Keep in mind that clients will decide whether you're qualified by scanning through your profile whenever you bid for jobs or pitch a project.
workother has a sliding scale, meaning the more you work, the less money you pay. For example, the commission fee starts from 20% for the first bill of $500 and gradually reduces as you receive more money.
There are several options for withdrawal, including direct transfer, PayPal, and wire transfer.
Freelancing type: software development, financial consulting, interim management
Pros: top-tier companies and talent, free invoicing and payments
Cons: extensive screening process, big projects only
Toptal is a freelance website that connects highly qualified freelance industry experts with companies. Toptal has a broad range of freelancers, from web developers and web designers to finance consultants and product managers.
Applying to Toptal as a freelancer requires passing five steps of the screening process, from a comprehensive English evaluation to a project assessment. This process ensures only the top 3% make it to the platform.
After passing all of the steps, you'll have access to various job postings from top clients and companies, such as Motorola and Airbnb. However, failing the test will put your application process on hold for up to a few months.
Toptal has a dedicated service for time tracking and invoicing called TopTracker. With this service, freelancers will get the total price they offer and receive payments via Payoneer, Paypal, or direct local bank transfer.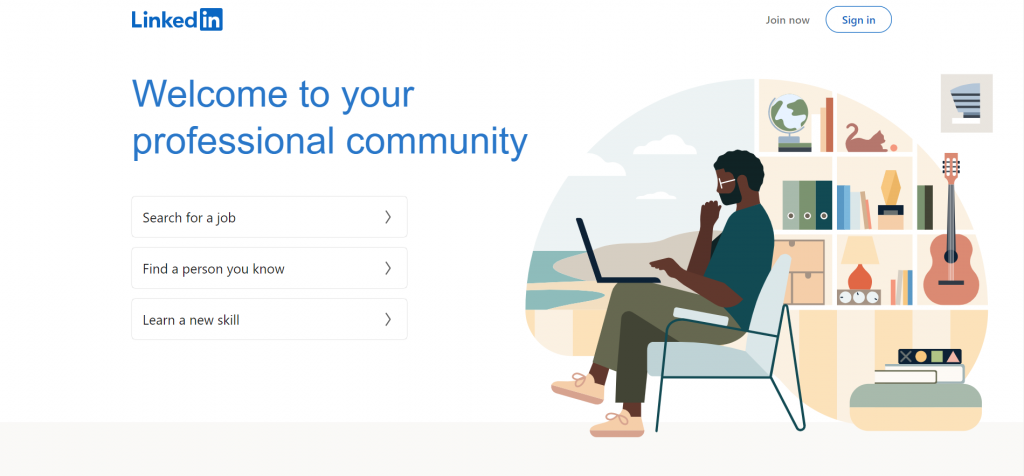 Freelancing type: copywriting, translation, graphic design
Pros: networking opportunities, recent news updates, cost-effective
Cons: spam content from malicious users
LinkedIn is one of the most popular job sites providing an easy way to find jobs in various fields. It's also a social networking platform for professionals to connect and interact with each other.
Simply sign up and create a profile to get started. Include as much information as possible, such as your skills, education, and work experience. A comprehensive LinkedIn profile can open up more job opportunities.
Adding a new post can also give your profile more exposure. For example, if you're a freelance writer, create a post describing your expertise and attach your work portfolio. Potential employers might discover your profile and make you an offer.
Browsing through LinkedIn job postings is also a great way to find freelance opportunities. To find your desired freelance job, make sure to use related keywords and sort the results from the latest.
Freelancing type: writing, content marketing, transcription
Pros: scam-free, 30-day money-back guarantee, reliable support
Cons: some premium jobs can be found outside the platform
Flexjobs is a website that specializes in flexible and remote job opportunities, including freelance, part-time and full-time jobs. There are broad categories, from education and training to journalism and writing jobs.
Flexjobs ensures every job listed on the website is legitimate. It verifies and screens all openings, filtering out scams and fake companies. Unlike other online job boards, this freelance website doesn't display any advertisements on its page.
To find freelance jobs, users need to sign up for a subscription. There are four plans available, starting from $6.95/week. Every subscription gives unlimited access to the job listings, along with a personalized work portfolio, career advice, and free skills testing.
Users can pay for their subscription with a prepaid card or PayPal. There is a 30-day satisfaction guarantee, meaning you can get a full refund if you're not satisfied with the service.
Freelancing type: human resources, finance, data entry
Pros: email alerts, helpful guides, free job tools
Cons: spam from unreliable third-party websites
SimplyHired is a job board where companies can post job opportunities for free. It also collects job offers from all over the internet into one page. The site has a clean user interface, making it easy to browse jobs by category.
There are various freelance opportunities in different fields, including finance and marketing. To find a specific job, simply fill out the search box with related keywords. To have more relevant results, narrow it down by filling out your city, state, or ZIP code.
Job seekers can also access the company pages to learn more information such as a salary overview of a company, a list of benefits offered, and reviews submitted by its real employees.
People can browse through SimplyHired without a profile. However, signing up for an account will give you access to various job tools, such as a salary estimator and resume builder.